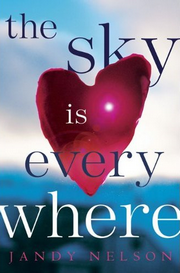 The Sky Is Everywhere by Jandy Nelson
March 9, 2010
Seventeen-year-old Lennie Walker, bookworm and band geek, plays second clarinet and spends her time tucked safely and happily in the shadow of her fiery older sister, Bailey. But when Bailey dies abruptly, Lennie is catapulted to center stage of her own life—and, despite her nonexistent history with boys, suddenly finds herself struggling to balance two. Toby was Bailey's boyfriend; his grief mirrors Lennie's own. Joe is the new boy in town, a transplant from Paris whose nearly magical grin is matched only by his musical talent. For Lennie, they're the sun and the moon; one boy takes her out of her sorrow, the other comforts her in it. But just like their celestial counterparts, they can't collide without the whole wide world exploding.
I've been hearing a lot about this book and it sounds like one I would enjoy! The cover reminds me of something.....
Wintercraft by Jenna Burtenshaw
Headline; May 13, 2010

Ten years ago Kate Winters' parents were taken by the High Council's wardens to help with the country's war effort. Now the wardens are back...and prisoners, including Kate's uncle Artemis, are taken south on the terrifying Night Train. Kate and her friend Edgar are hunted by a far more dangerous enemy. Silas Dane -- the High Council's most feared man -- recognises Kate as one of the Skilled; a rare group of people able to see through the veil between the living and the dead. His spirit was damaged by the High Council's experiments into the veil, and he's convinced that Kate can undo the damage and allow him to find peace. The knowledge Kate needs lies within Wintercraft -- a book thought to be hidden deep beneath the graveyard city of Fume. But the Night of Souls, when the veil between life and death is at its thinnest, is just days away and the High Council have their own sinister plans for Kate and Wintercraft. To help Artemis, Edgar and herself, Kate must honour her pact with a murderer and come face to face with the true nature of death.
Ooh! This one is going to be really good (or so I hope!). Can't wait!
Hard To Get by Emma Carlson Berne

February 23, 2010



Summary: Val Rushford has it all: The boyfriend, the looks, the grades, the friends--she's perfect. But when she dumps her cheating boyfriend, Dave, she's bombarded with all types of advances from boys all over school! Totally overwhelmed, Val decides to swear off boys until the end of the year. She buries herself in her school work and spends all her time on a class project that has her paired up with the artsy and intellectual Adam--the unlikliest candidates to ever win Val's heart...or so she thinks.
Val soon finds a connection in Adam she has never experienced before, but she's so dedicated to her promise and so unsure of her feelings that she keeps him at an awkward distance. If Val can't figure out what she truly wants, she may just lose her one chance at real love!
This one sounds so cute! I really want to read this! I love stories like this!