I have a lot of books that I'm waiting for: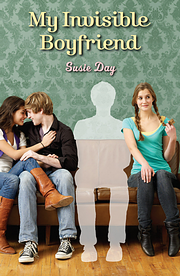 My Invisible Boyfriend by Susie Day
April 1, 2010
Summary:
Heidi has the perfect solution to her popularity problems - a fake boyfriend. She's even made him an Internet profile that makes him look like a motorcycle-riding, poetry reading bad boy. *swoon* Heidi's friends are so impressed they start emailing Heidi's fake boyfriend with their problems . . . including their problems with Heidi. As if that weren't bad enough, a delicious and possibly single person called "A Real Boy" emails Heidi to say he knows the truth. Can Heidi escape from her world wide web of lies? Or will her chance at romance disappear faster than you can type gtg?
This book sounds really cute!
A Haunting Emma Novel by Lee Nichols
May 2010/Bloomsbury
Summary: When Emma Vaile's parents go missing while away on a mysterious business trip, she's left all alone in her creepy old house. But her brother's very cute best friend, Bennett Stern—Emma's knight in J. Crew armor—arrives unexpectedly to whisk her away to New England. There, Emma settles into his family's museum-like mansion and enrolls at an old-fashioned private school. She quickly finds friends in the popular legacy crowd at Thatcher and spends her free time crushing on Bennett. But the eerie visions she's been hiding from everyone have gotten worse.

Emma has memories of Thatcher that she can't explain—it's as if she's returning home to a place she's never been. Finally, Emma confides in Bennett and learns she is a ghostkeeper, a person who can communicate with ghosts. Bennett brought Emma to Thatcher to protect her, but now he needs her help tracking an other-worldly murderer. A rich New England setting filled with mystery, tradition, and prep-school intrigue make Deception the perfect choice for fans of series like Kate Brian's Private, as well as all those paranormal fans. The shocking ending will leave readers desperate for book two.
Oooh! Ghosts, a cute boy, a shocking ending making readers beg for book two? Now, doesn't that sound great????
Nightshade
by Andrea Cremer
pub: Oct 2010/Philomel Penguin
Summary:
While other teenage girls daydream about boys, Calla Tor imagines ripping out her enemies' throats. And she wouldn't have it any other way. Calla was born a warrior and on her eighteenth-birthday she'll become the alpha female of the next generation of Guardian wolves. But Calla's predestined path veers off course the moment she saves the life of a wayward hiker, a boy her own age. This human boy's secret will turn the young pack's world upside down and forever alter the outcome of the centuries-old Witches' War that surrounds them all.
I think the cover is enough to pull me in! But the synopsis has a certain vibe to it too!
Spells
by Aprilynn Pike
May 2010/Harper Teen
Summary:Six months have passed since Laurel saved the gateway to the faerie realm of Avalon. Now she must spend her summer there, honing her skills as a Fall faerie. But her human family and friends are still in mortal danger--and the gateway to Avalon is more compromised than ever. When it comes time to protect those she loves, will she depend on David, her human boyfriend, for help? Or will she turn to Tamani, the electrifying faerie with whom her connection is undeniable?
Love this cover too! And the book sounds interesting.
Glass by Jessica Day George
Bloomsbury USA on May 25, 2010
Summary:"Hoping to escape the troubles in her kingdom, Princess Poppy reluctantly agrees to take part in a royal exchange program, whereby young princes and princesses travel to each other's countries in the name of better political alliances and potential marriages. It's got the makings of a fairy tale until a hapless servant named Eleanor is tricked by a vengeful fairy godmother into competing with Poppy for the eligible prince. Ballgowns, cinders, and enchanted glass slippers fly in this romantic and action-packed happily-ever-after quest from an author with a flair for embroidering tales in her own delightful way." Amazon.com synopsis
Oooh, I'm a big sucker for books like this one! Now come one, doesn't it sound cute?