I'm sorry for being so M.I.A this week. I've been very busy reviewing and reading loads of books as well as keeping up with school work. It's time consuming!
Anyway's off to this week WoW!
"Waiting On" Wednesday is a weekly event, hosted by Jill at
Breaking the Spine
, that spotlights upcoming releases that we're eagerly anticipating.
Wayfarer by R.J. Anderson
HarperTeen (HarperCollins)
June 22, 2010
In a time of deadly crisis, Linden alone has the power to save her people.

The faeries of the Oak are in danger of extinction, and their only hope for survival rests in fifteen-year-old Linden. Armed with the last of her people's magic, she travels bravely into the modern human world. Along the way she makes a reluctant ally—a human boy named Timothy.

Soon Linden and Timothy discover a danger much worse than the Oakenfolk's loss of magic: a potent evil that threatens to enslave faeries and humans alike. In a fevered, desperate chase across the country, Tim and Linden must risk their lives to seek an ancient power before it's too late to save everyone they love.

R. J. Anderson has artfully crafted a world of stunning magic, thrilling adventure, and delicate beauty, where the key to the future is in an unexpected, forbidden friendship.


I love a good fantasy, urban-fantasy, non-human-girl-go-on-a-quest-to-save-the-world-with-a-human book!
Remember Me (Books #1-3)
Christopher Pike
August 3, 2010
Simon Pulse
She won't let them forget?

Shari Cooper wakes up dead. The last thing she can remember is falling from a balcony during her friend's party. Her death has been ruled a suicide, but Shari knows she was murdered. All of her closest friends are now suspects. As she tries to find her killer from the other side, she discovers her friends may not have been so loyal to her after all. Now, Shari is not just out for justice, she's out for revenge.
Ooh, sounds kinda scary doesn't it? Maybe that's why I love it so much! And the cover, so dark and intimidating! I love it! The short synopsis makes me want to read it all the more!
A Blue So Dark by Holly Schindler
Flux
May 1st 2010

Terrified that her mother, a schizophrenic and an artist, is a mirror that reflects her own future, sixteen-year-old Aura struggles with her overwhelming desires to both chase artistic pursuits and keep madness at bay.

As her mother sinks deeper into the darkness of mental illness, the hunger for a creative outlet keeps drawing Aura toward the depths of her own imagination—the shadows of make-believe that she finds frighteningly similar to her mother's hallucinations.

Convinced that creative equals crazy, Aura shuns her art, and her life unravels in the process.
A physic thriller/finding-yourself book? I think this book looks and sounds really interesting. I want to know what happens to Aura and how the author writes this book!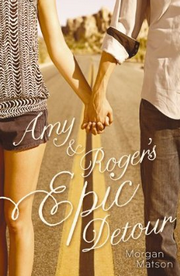 Amy & Roger's Epic Detour by Morgan Matson
Simon & Schuster Children's Publishing
May 4, 2010
Amy Curry thinks her life sucks. Her mom decides to move from California to Connecticut to start anew--just in time for Amy's senior year. Her dad recently died in a car accident. So Amy embarks on a road trip to escape from it all, driving cross-country from the home she's always known toward her new life. Joining Amy on the road trip is Roger, the son of Amy's mother's old friend. Amy hasn't seen him in years, and she is less than thrilled to be driving across the country with a guy she barely knows. So she's surprised to find that she is developing a crush on him. At the same time, she's coming to terms with her father's death and how to put her own life back together after the accident. Told in traditional narrative as well as scraps from the road--diner napkins, motel receipts, postcards--this is the story of one girl's journey to find herself.
Ah, road trip+cute boy+finding yourself= a great book! I sounds so cute and I love books like this. Plus, how cute is the cover?