"Waiting On" Wednesday is a weekly event hosted by Breaking the Spine that spotlights upcoming releases that we're eagerly anticipating.
<><><><><><><><><><><><><>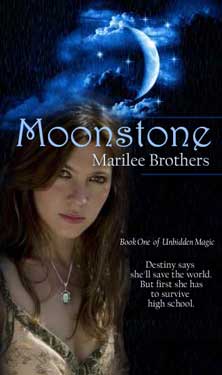 Moonstone by Marilee Brothers
Bell Bridge Books
August 1, 2008
A sickly mom. A tiny house trailer. High school bullies and snarky drama queens. Bad-guy dudes with charming smiles. Allie has problems. And then there's that whole thing about fulfilling a magical prophecy and saving the world from evil. Geez. Welcome to the sad, funny, sometimes-scary world of fifteen-year-old Allie Emerson, who's struggling to keep her and her mom's act together in the small-town world of Peacock Flats, Washington. An electrical zap from a TV antenna sets off Allie's weird psychic powers.
The next thing she knows she's being visited by a hippy-dippy guardian angel, and then her mysterious neighbor, the town "witch," gives her an incredible moonstone pendant that has powers only a good-hearted "Star Seeker" is meant to command. "Who, me?" is Allie's first reaction. But as sinister events begin to unfold, Allie realizes she's got a destiny to live up to. If she can just survive everyday life, in the meantime.
Sleepless by Cyn Balog
Delacorte Books for Young Readers
July 13, 2010



Eron De Marchelle isn't supposed to feel a connection. He is a Sandman, a supernatural being whose purpose is to seduce human charges to sleep. While he can communicate with his charges in their dreams, he isn't encouraged to--after all, getting too involved in one human's life would prevent him helping his other charges get their needed rest.
But he can't deny that he feels something for Julia. Julia, with her fiery red hair and her sad dreams. Just weeks ago, her boyfriend died in a car accident, and Eron can tell that she feels more alone than ever. Eron was human once too, many years ago, and he remembers how it felt to lose the one he loved. Eron has always felt protective of Julia . . . but now, when she seems to need him more than ever, he can't seem to reach her . . .
Sandmen are forbidden from communicating with humans outside their dreams. But will Eron be willing to risk everything for a chance to be with the person he loves?
Both of these books sound great! And the covers are awesome too!
What are your picks?
*I'm having some trouble with this blog! All of my post seem to come away from the side, as if I centered them when I didn't. Anyone know how to fix it?