"Waiting On" Wednesday is a weekly event hosted by Breaking the Spine that spotlights upcoming releases that we're eagerly anticipating.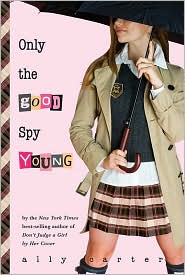 Only the Good Spy Young
by Ally Carter
When Cammie Morgan enrolled at the Gallagher Academy, she knew she was preparing for the dangerous life of a spy. What she didn't know was that the serious, real-life danger would start as soon as her junior year. But that's exactly what happened two months ago when she faced off against an ancient terrorist organization dead set on kidnapping her.
Now the danger follows her everywhere, and even Cammie "The Chameleon" can't hide. When a terrifying encounter in London reveals that one of her most trusted allies is actually a rogue double agent, Cammie no longer knows if she can trust her classmates, her teachers — or even her own heart.
In this fourth installment of the New York Times best-selling series, the Gallagher Girls must hack, spy, steal, and lie their way to the truth as they go searching for answers, recognizing that the key to Cammie's future may lie deep in the past.
I love Alley Carter and the Gallagher Girls so I was very excited to read about this new book in the series!
Ask Amy Green: Boy Trouble by Sarah Webb
Candlewick
August 10, 2010
Thirteen-year-old Amy Green has a lot to juggle: handling her divorced parents, minding her messy baby siblings, and navigating the snobby popular cliques at school. So when her cool but crazy seventeen-year old aunt, Clover lands a job giving advice for the teen mag The Goss, Amy jumps at the chance to help out as her sidekick. Of course Clover, being Clover, doesn't just want to answer readers' letters, she wants to solve their problems . . . personally. From stamping out malicious rumors to giving a cad his comeuppance to creating the perfect web page, the two come up with some clever hands-on schemes that bring happiness to many unhappy girls. But when Amy falls for the cute but aloof boy in her art class — and her own friends start snubbing her big-time — can she find a way out of her own dilemma?
This one sounds like a really cute read!
Almost to Die For (A Vampire Princess of St. Paul, #1) by Tate Hallaway
NAL TradeAugust 3, 2010
On her sixteenth birthday, Anastasija Parker's present winds up being the shock of a lifetime. When her mom referred to her absentee dad as a deadbeat it was actually half true -- he's a vampire. And a king, no less. A king who wants his daughter to assume her rightful position at his side. But, thanks to Ana's mother, the blood of a witch also runs through her veins....
Too bad vampires and witches are mortal enemies.
With her parents gearing up for an all out brawl over her destiny, Ana's about ready to scream. But things get even crazier when a male witch and a brooding bad boy vampire start vying for her affection. Then the barely leashed tension between the vampires and the witches starts to boil over, and Ana has to figure out once and for all if she wants to become heir to her dad's throne. And deciding your eternal destiny is a pretty big deal for a girl who just wants to get through high school.