Ok, so I had a whole weeks worth of posts up but one I was not prepared for was this one: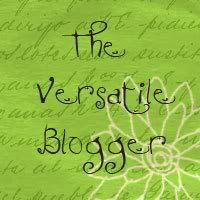 I want to thank Missy from
Missy's Reads and Reviews
for this awesome award! You all should go and check out her blog, it's really great!
Here's how this award works:
1. Thank and link back to the person who gave you this award.
2. Share 7 things about yourself.
3. Pass the award along to 15 bloggers who you have recently discovered and who you think are fantastic for whatever reason! (In no particular order...)
4. Contact the bloggers you've picked and let them know about the award.
7 Things:
1. I'm the middle kid in the family with an older sister and a younger brother.
2. I can fluently speak two languages (Hindi and English )and I'm learning my third one (French)!
3. I'm an absolute die hard romantic. Anything romantic, no matter how cheesy, I love it!
4. I want to be a lawyer but I am writing two books at the moment and hope to be published one day.
5. I love, love, love chocolate!
6. I love to play soccer.