"Waiting On" Wednesday is a weekly event hosted by
Breaking the Spine
that spotlights upcoming releases that we're eagerly anticipating.
Enchanted Ivy by Sarah Beth Durst
Margaret K. McElderry
Oct 2010
What Lily Carter wants most in the world is to attend Princeton University just like her grandfather. When she finally visits the campus, Grandpa surprises her: She has been selected to take the top-secret Legacy Test. Passing means automatic acceptance to Princeton. Sweet!
Lily's test is to find the Ivy Key. But what is she looking for? Where does she start? As she searches, Lily is joined by Tye, a cute college boy with orange and black hair who says he's her guard. That's weird. But things get seriously strange when a gargoyle talks to her. He tells her that there are two Princetons—the ordinary one and a magical one—and the Key opens the gate between them. But there are more secrets that surround Lily. Worse secrets.
When Lily enters the magical Princeton, she uncovers old betrayals and new dangers, and a chance at her dream becomes a fight for her life. Soon Lily is caught in a power struggle between two worlds, with her family at its center. In a place where Knights slay monsters, boys are were-tigers, and dragons might be out for blood, Lily will need all of her ingenuity and courage—and a little magic—to unite the worlds and unlock the secrets of her past and her future.
I loved the first book by Sarah and I liked the synopsis of this one too!
The Grimm Legacy by Polly Shulman
Putnam Juvenile
July 2010
Elizabeth has a new job at an unusual library— a lending library of objects, not books. In a secret room in the basement lies the Grimm Collection. That's where the librarians lock away powerful items straight out of the Brothers Grimm fairy tales: seven-league boots, a table that produces a feast at the blink of an eye, Snow White's stepmother's sinister mirror that talks in riddles.
When the magical objects start to disappear, Elizabeth embarks on a dangerous quest to catch the thief before she can be accused of the crime—or captured by the thief.
Polly Shulman has created a contemporary fantasy with a fascinating setting and premise, starring an ordinary girl whose after-school job is far from ordinary— and leads to a world of excitement, romance and magical intrigue.
Yet another great synopsis. I love anything that has to do with the Grimm Brothers!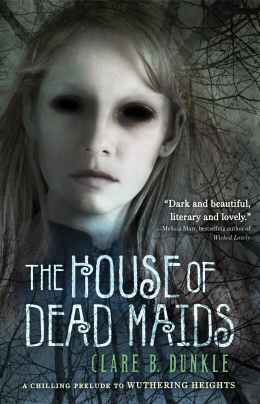 The House of Dead Maids by Clare B. Dunkle
Henry Holt and Co.
September 14, 2010
Young Tabby Aykroyd has been brought to the dusty mansion of Seldom House to be nursemaid to a foundling boy. He is a savage little creature, but the Yorkshire moors harbor far worse, as Tabby soon discovers. Why do scores of dead maids and masters haunt Seldom House with a jealous devotion that extends beyond the grave?
As Tabby struggles to escape the evil forces rising out of the land, she watches her young charge choose a different path. Long before he reaches the old farmhouse of Wuthering Heights, the boy who will become Heathcliff has doomed himself and any who try to befriend him.
Is that cover not spooky or what? I love it? Though I've never read Wuthering Heights, the synopsis sounds just great!
The Julian Game by Adele Griffin
Putnam Juvenile
August 26, 2010
All new girl Raye Archer wants is a way into the in crowd, so when ice-queen Ella Parker picks her to get back at her ex, the gorgeous Julian Kilgarry, Raye is more than game. Even if it means creating a fake Facebook identity so she can learn enough about Julian to sabotage him. It's a fun and dangerous thrill at first, but Raye hadn't counted on falling for Julian herself and igniting Ella;s rage.
As Raye works to reconcile the temptress Elizabeth with her real-life self, Ella serves up her own revenge, creating an online smear campaign of nasty rumors and trashy photographs. Suddenly notorious, Raye has to find a way out of the web of deceit that she's helped to build, and back to the relationships that matter.
This one sounds just as interesting as the other books except it has more of a modern day feel to it.
Warped by Maurissa Guibord
Delacorte Books for Young Readers
January 11, 2011
Tessa Brody doesn't believe in magic. Or Fate. But there is definitely something weird about the dusty unicorn tapestry that she discovers in a box of old books. The wild, handsome creature woven within it draws Tessa, and frightens her too.

Soon after the tapestry comes into her possession strange things begin to happen. Tessa experiences vivid dreams of the past and scenes from a brutal hunt. When she accidentally pulls a thread from the tapestry, Tessa releases a terrible secret-one that has been contained for centuries. She also meets William de Chaucy, a young sixteenth-century nobleman with gorgeous eyes, an odd accent and haughty attitude to spare. His fate is as inextricably tied to the tapestry as Tessa's own. "His Lordship" is pretty hard to get along with but equally hard to resist.

Together with Will, Tessa must correct the wrongs of the past to defeat a cruel and crafty ancient enemy.

But what is she willing to sacrifice in order to do it?