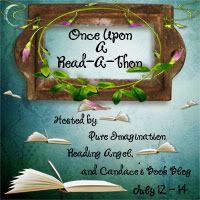 So Day 1 of the Read-A-Thon ended yesterday but I didn't get a chance to post this one. I actually posted the last challange I did yesterday today, becasue I had to do some things yesterday and I forgot!
Anyhoo:
I read:
Demon Princess : I'm not done with this one yet!
To Kill A Mockingbird: for school but still, it's a classic.
Mini-Challenges:
I did all three of Monday's challenges.
For Today:
I want to do all the challenges and finish three books at least!

Total Time: 2 1/2 hours