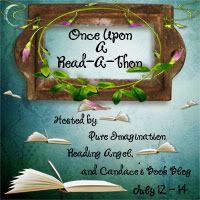 For my challenge, I'm asking you to pick your favorite book you've read so far for the read-a-thon and write a review for it. It doesn't have to be wordy (along if it's 3 sentences or more it counts!) nor does it have to be posted on your blog (Goodreads/Amazon/Barnes and Noble//etc. are all fine places to post!), and because I know I love hearing about new books that are great (and I'm sure you do too!) I've included a linky post below so that everyone can link to their review and then read some others.
PERFECT YOU by Elizabeth Scott
Summary:Kate Brown's life has gone downhill fast. Her father has quit his job to sell vitamins at the mall, and Kate is forced to work with him. Her best friend has become popular, and acts like Kate's invisible.
And then there's Will. Gorgeous, unattainable Will, who Kate pretends she can't stand even though she can't stop thinking about him. And when Will starts acting interested, Kate hates herself for wanting him even though she knows she's just his latest conquest.
Kate figures the only way things will ever stop hurting is if she keeps to herself and stops caring about anyone or anything. What she doesn't realize is that while life may not always be perfect, good things can happen--but only if she lets them.

Review: Another Elizabeth Scott! Though I read this one a while ago, it's one of the favorite ones I've read in a while.

Scott write yet again with the lyrical pose only she can write with. Kate's life is all messed up and she's not too sure how to handle things. She's a very weak character in the beginning but she becomes strong by the end of the book. The plot is some what slow and could have been better paced but it fit the dialogue and characters.

Speaking of characters, I have to say that I hated Kate's dad. I thought he was selfish and stupid and it was good to get rid of him. Kate's Mom shouldn't have been as stubborn as she was but she turned out alright in the end. I liked Will but I had a feeling he would turn out like a jerk. Though he didn't turn out how I expected, leave it to Scott to have a surprise in store.
Grade:
I really liked it.
Cover: D, looking at the picture it makes me think that the guy's a total stud and the girl is nerdy, but I don't think it captures the essence of this story very well!


Overall: A cute fun read. If you like Scott's writing style pick this book up!