Title:

Haunting Violet
Author:

Alyxandra Harvey
Release Date:

June 21, 2011
Publisher:
Walker

Childrens
Source:

Publisher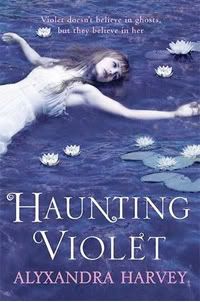 Violet Willoughby doesn't believe in ghosts. But they believe in her. After spending years participating in her mother's elaborate ruse as a fraudulent medium, Violet is about as skeptical as they come in all matters supernatural. Now that she is being visited by a very persistent ghost, one who suffered a violent death, Violet can no longer ignore her unique ability. She must figure out what this ghost is trying to communicate, and quickly because the killer is still on the loose.

Afraid of ruining her chance to escape her mother's scheming through an advantageous marriage, Violet must keep her ability secret. The only person who can help her is Colin, a friend she's known since childhood, and whom she has grown to love. He understands the true Violet, but helping her on this path means they might never be together. Can Violet find a way to help this ghost without ruining her own chance at a future free of lies?
Review: I love Alyxandra Harvey's Drake Chronicles so I was eager to begin reading this book. Not only was it about ghosts' but its set in Regency England! I love, love, love books set in that time. It was such a great book to read! It's an historical fantasy with ghosts, mediums, and how to survive in the social classes of nineteenth century England. I've read a lot about how important the social classes of that time were, and I loved how well Ms. Harvey was able to incorporate it in her book.

Honestly, I think Alyxandra Harvey's writing is superb in this book! Her writing gave me the feel of being in England during that time since it was so well written. There was a lot of suspense and drama and surprises to keep me on my toes and wanting more. Though the story begins off slowly, as soon as the ghost comes to see Violet, the story is a constant roller coaster ride, a ride that keeps going until the last page. The murder mystery only adds onto the suspense of this novel and guessing the murder is actually harder than it seems.

I really love Violet. She was such a great protagonist, with so much heart and determination. Though she's got such a hard time, she saw the good in it all. I liked how she tried to make the best of everything. Her thoughts and little quirks show that she's very amusing. I liked the secondary characters as they added to the plot line and make the story move. Elizabeth was a best friend that I wanted and Colin was a boy who I wanted to know. There is romance in this book and it's my favorite kind!

The only thing I disliked about this book was Violet's mother. she was obsessed with being rich and being in the upper classes and I'm sure that's why Violet hates the upper classes. Overall, I loved Haunting Violet. The setting, the plot, the characters, the mystery, and everything about it made me continue reading.
Overall:
4.5/5
Cover Comments:
4/5
There's a creepy feel to this cover that goes so well with the story line. I love how the girl, the dress, the lilies, and even the water add to the story!