Top Ten Top Ten Underrated Books
1) Brightly Woven by Alexandra Bracken:
I LOVED this book. I love Fantasy in general and this has to be one of the best fantasy books I've read in a few years. Sydelle and the world that Bracken created are so magical and descriptive and wonderful that I loved every bit of Brightly Woven. People don't read this book enough!
2) I Heart You, You Haunt Me by Lisa Schroeder:
With the release of her newest novel The Day Before, that book has been getting a lot of attention. But I Heart You, You Haunt Me was the first book I read of Lisa's and I LOVED it.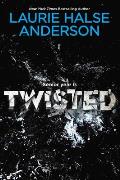 3) Twisted and Prom and other books by Laurie Halse Anderson:
For people who've read this blog, you know how much I love Laurie and her writing. Speak and Wintergirls are very important books BUT I don't think any of her other books get enough credit.
4) Fat Cat and Evolution, Me and other Freaks of Nature by Robin Brande:
I haven't read Fat Cat yet but Evolution was such a great book that I was surprised at how many people actually read the book. It takes a controversial topic and puts it into a really realistic situation.
5) Dairy Queen by Catherine Gilbert Murdock:
Another book that I enjoyed a lot MAINLY because of DJ, the protagonist. She's funny, snarky,and just plain awesome!
6) Amy & Roger's Epic Detour by Morgan Matson:
I've read this book like 3 times and I've loved it every time I've read it. First, who doesn't like road trips and second who doesn't like road trips with a hot boy? Very well written and heartwarming (some times heart wrenching), this is a book I wish a lot more people would love and appreciate.
7) Percy Jackson and the Olympians by Rick Riordan:
People say that it's going to be bad based on the movie that they've seen. Other people don't read this series because...they just don't. Honestly people, this series is a GREAT SERIES. It's got great characters and it's super educational (Greek Myth, to me, at it's best) PLUS, who wouldn't want to be a half child of a Greek God??????
8)Study Series Maria V.Snyder:
I love these books. They're super good fantasy novels with plenty of twists, turns, surprises, romances, and everything else to satisfy readers...so why don't people read these?
9)Fire and Graceling by Kristin Cashore:
She's got to be one of my favorite authors ever! Her writing is super good with great characters, descriptions,and awesome plots. People should read these books more often!
10)Lurlene McDaniel Books:
Okay, so I've read almost all of Lurlene's books and while some are mainly for Middle Grade, she's got some great Young Adult books out there. She deals with mental and physical issues (like cancer and death and suicide) and she's really good at it!