Top 10 of 2011 is hosted by Jessica at
Confessions of a Bookaholic
, Lisa at
A Life Bound by Books
, Rachel from
Fiktshun
, and Jamie and Patricia from
Two Chicks on Books
.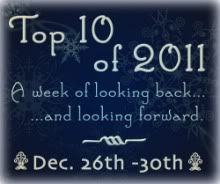 Divergent by Veronica Roth
2011 Debut
Why: Divergent had a great plot AND a great romance. More so, the romance didn't take over the plot. There was just the right amount of (super cute) romance that helped the plot progress. The plot, was SO AWESOME. It was like non stop action. The idea for the factions was interesting based on the virtues people like most. Tis is so tough and kick ass. She REALLY knows what she believes in and I found that to be amazing. Ms. Roth was able to convey danger, fear, angst, happiness, hurt, and a lot of other things, very well. This was one of the reasons I connected with Tris.
Why: I have to also give Ms. Aguire HUGE props for her world building skills. Though it's like post-apocalypse and all, holy moly was her world awesome. We see the world through Duce's eyes and like Duce (who has lived under ground her whole life) we're amazed and scared at what the world has turned into. From the very beginning, the way Ms. Aguirre characterized Duce was so awesome. Her determination to be a Huntress (and to be good at it) showed so much about it. It's when she's partnered with the slightly intimidating, broody Fade that her true character is revealed: she's a girl who wants to do the right thing, she wants to protect the people she loves and she's doing it the only way she knows how! I loved the relationship between Duce and Fade. It's really when he enters her life that her journey really takes off. I just can't get the world out of my head…and is it weird for me to say that I'm actually a little scared of the world that Ms. Aguirre introduced me to?
Wither by Lauren DeStefano
2011 Debut
Why: I have to give it to Ms. DeStefanofor not making polygamy the absolute main focus of this plot. To me, the main focus was on our protagonist Rhine and her feelings of where she currently was and what was happening to her. The plot moved a bit too slowly at times and some things seemed a bit repetitive and that really pulled me away. I just loved, loved the feel and sounding of the words together. This book really, really came alive with her descriptions but the best part was that the descriptions weren't overdone. They were just right! The feel of this entire novel is just so palpable. The emotions and the descriptions were just so darn real! Rhine in turn was an amazing protagonist! She's a strong, fierce girl who knows what she wants but she's human too.
Why:
Anna and Lola have become some of my favorite characters ever! These books are so well written, SO REALISTIC, fun, full of cute romance, and so much more. Anna's got the whole "but does he like me" thing going for it and the teenage angst that comes with that question is super realistic. Lola is so, so unique. She's not perfect and she's got flaws but she's willing to admit to it. Another realistic, fun, cute book that has an awesome, quirky, shy, nerdy boy crush!
Why:O'Neal has a great clear cut writing style that takes time to develop but it's not too fast or too slow; it's just right. She writes her characters to be believable people and people we can relate to even though they live in a fantasy world. She gives her characters a defined voice and is able to write it that way throughout the novel. It had great characters, romance, danger, surprises, twists and turns, sword fighting, a bad guy; it had everything!
The Near Witch by Victoria Schwab
2011 Debut
Why:Amazing. Wonderful. Poetic. Breathtaking. All of those adjectives TRY to describe The Near Witch by Victoria Schwab. There are some books out there that leave you breathless because of how beautifully and gracefully the author has written the book. The Near Witch is one of those books. Victoria Schwab's writing is so epic. This book, with her descriptions and dialogue made this book come alive. It was like a bed time story come alive in the most perfect way.
Why:
Beautifully written, achingly sad but wonderful at the same time, Liesl & Po is one of the best middle grade books I've read. Liesl & Po was an enchanting, heartbreakingly beautiful book about losing someone you love and making it out alright. You HAVE to read this book.
Why:
What a nice jem in all the paranormal I was reading. Such a surprisingly dark and more in depth book than I had imagined. I had anticipated somewhat of a light, funny novel but wow was I happily surprised. The sisters had a great writing style and kept me engaged in the story the whole time. I can't wait to read more.
Why:I just read this recently and it's been in my mind for a while now. Such a beautifully written, heart wrenching novel! Carmen was a great protagonist and I felt for her throughout the whole book. The plot was great, and some aspects kept me guessing on. As a violin player (NOT as good as Carmen), I loved reading all about the music and the notes and all the other things!
What
Are
Some
Of
Your
Favorite
Books
0f
2011?