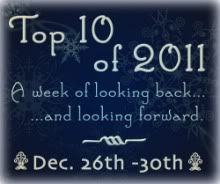 Today's topic is TOP TEN BOOK BOYFRIENDS OF 2011. In no particular order:
1)

Four

from Divergent by Veronica Roth:

so strong and sexy and awesome.
2)

Vincent

and

Jules

from Die For Me by Amy Plum:

I never would have thought I would have fallen for a * 2 zombies* but Vincent and Jules were such nice, cute guys! Plus, they're Parisian.
3)

Archer

from Demonglass by Rachel Hawkins:

He's hot and sexy and mysterious and smoldering..
4)

Jeremy

from Virtuosity by Jessica Martinez:

He's a violin player. He's super nice but mysterious too!
5)

Cricket

from Lola and the Boy Next Door by Stephanie Perkins:

He's such a super cutie! He's weird and awkward and an inventor and oh so realistice!
6)

Carlos

from Rules of Attraction by Simone Elkeles:

Hot, sexy, and the ultimate bad boy with a soft heart.
7)

Fade

from Enclave by Ann Aguire:

He's had such a hard life but he's still so strong, and the silent brooding type!
8)

Hunter

from Love Story by Jennifer Echols:

He's the hot, sexy guy who you have a huge crush on and can't seem to stop thinking about.
9)

Zachary

from Shade by Jeri Smith-Ready:

He's Scottish, he's got an accent, he's super nice and carrying and he's smart too!
10)

Adam

from Where She Went by Gayle Forman:

He's a singer, super cute and nice and sweet and swoon worthy.

Who

Are

Some

Of

Your

Favorite

Book

Boyfriends

0f

2011?