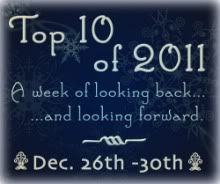 Today's topic is TOP TEN CHARACTERS OF 2011. In no particular order:
The ladies never specifically said what kind of favorite characters they wanted and I decided to go with characters who broke their stereotypes:
Nathan and Andy

from Lola and the Boy Next Door:

I had noticed an extreme lack of good parents in YA books. Why were they always so mean or non caring? Couldn't we just have some awesome, normal parents? Well, Nathan and Andy were just the kinds of parents I needed to see. Not all parents are mean and don't care about their kids. Andy and Nathan were nice and caring but weren't afraid to become parents.
Hanna

from Delirium by Lauren Oliver:

Not all best friends are horrible , back stabbing b******. Hanna proved to be a funny, carrying friend who isn't afraid to tell her bff when she's being stupid or wrong.
Tris

from Divergent:

She's not a damsel in distress. She's not afraid to get into action, to do something dangerous. She's not afraid to have a heart and be human at the same time as being a daring girl.
Jordan

from Catching Jordan:

Jordan hung out with the guys and went against what was considered normal. She didn't listen to her dad tell her not to go after her dreams. When people said girl's can't play football, she said no. She went out to prove herself.
Duce

from Enclave:

I think I loved that Duce was able to be afraid of the "things" (if you've read it, you know what I'm talking about) but also be really strong. She was strong and didn't let anything get her down. She was willing to get back up after a bad day or hard work.
Piper

from Five Falvors of Dumb:

She's deaf but she was able to go way past the norm and prove that even though she can't hear the music, she can play it. She didn't let anything get to her and she knew what she wanted.
Kate

from The Liar Society:

Kate lost her best friend and even though people are telling her to move on, she knows that something happened to her best friend and Kate will stop at nothing to prove it. Kate was determined and it wasn't for her. She was so selfless as to devote so much time and energy to prove that her friend had been wronged. When you think of a book like this, you'd think it would be about Kate morning her best friend's death by like hosting memorial services in her honor. Instead, she's out to get the person who killed her bff.
Kat

from Uncommon Criminals:

She's a thief and you'd expect the thief to (mostly) have no heart and just steal the things they wanted. Kat wasn't like that. She was a good person who only wanted to help people. Yeah she stole things, but she returned them to their rightful owners.
Kate

from Die for Me:

When I began this book, I was afraid that it was going to be a Twilight re make. I so expected Kate to become all Bella like when it came to Vincent (thought Vincent IS NOT a vampire)…she didn't and that was a nice touch. She was interested in Vincent, yes, but she was willing to learn more about him and his kind and not become a damsel in distress. She held her own.
Rose

from Vampire Academy Series:

I'm including Rose not only because she's just plain awesome and I think she broke the stereotype of being strong and willful but she had a heart also. I think she was also one of the most honest characters out there. There was no bull with her and she was willing to accept that yeah, she might not be alive the next morning.

Who

Are

Some

Of

Your

Favorite

Characters

0f

2011?