"Waiting On" Wednesday is a weekly event hosted by Breaking the Spine that spotlights upcoming releases that we're eagerly anticipating.
Title:

The Raft
Author:

S. A. Bodeen
Publisher:

Feiwel & Friends
Release Date:

August 21, 2012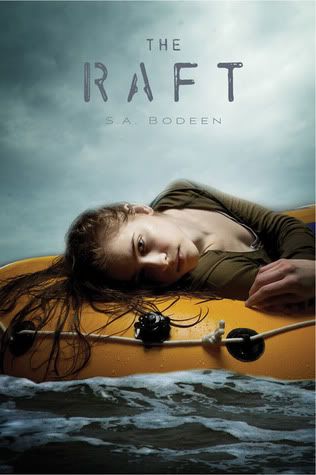 Robie, 16, lives with her family on the Midway atoll, a group of islands in the middle of the Pacific. Her parents are scientists; it's an isolated life. Robie enjoys visiting her aunt in Hawaii – she gets back and forth on a cargo plane that brings supplies to Midway. During a visit, her aunt is called to the mainland for a work emergency, leaving Robie to get home on her own. On her flight back to Midway the cargo plane hits nasty weather, and goes down. It's just Robie, the pilot, and Max, a co-pilot she's never met till this flight, on board. Robie is pulled aboard a raft by Max, who is injured and slipping in and out of consciousness. They have a bag of candy and very little water between them. When they finally reach an island that seems abandoned, Robie hopes they'll be found quickly. But she's not sure she was even on the flight manifest. Her parents must be looking for her…aren't they?
I love this cover so much! It's creepy and scary and just awesome!
**********************************************
Title:
Something Like Normal
Author:
Trish Dollar
Publisher:

Bloomsbury
Release Date:

June 19, 2012
When Travis Stephenson returns home from Afghanistan, his parents are on the brink of divorce, his brother has stolen his girlfriend and his car, and nightmares of his best friend getting killed keep him completely spooked. But when he runs into Harper Gray, a girl who despises him for trashing her reputation with a middle school lie, life actually starts looking up. As Travis and Harper see more of each other, he starts falling for her and a way through the family meltdown, the post-traumatic stress, and the possibility of an interesting future begins to emerge.

His sense of humor, sense of his own strength, and incredible sense of honor make Travis an irresistible and eminently lovable hero in this fantastic and timely debut novel.
I love the sounds of this one. And it's from a boy's POV!
**********************************************
Author:
Hilary Weisman Graham
Publisher:

Simon & Schuster Books For Young Readers
Release Date:

June 12, 2012
1 Concert 2,000 Miles 3 Ex-Best Friends

Alice, Summer, and Tiernan are ex-best friends.

Back in middle school, the three girls were inseparable. They were also the number one fans of the rock band Level3.

But when the band broke up, so did their friendship. Summer ran with the popular crowd, Tiernan was a rebellious wild-child, and Alice spent high school with her nose buried in books.

Now, just as the girls are about to graduate, Level3 announces a one-time-only reunion show.

Even though the concert's 2000 miles away, Alice buys three tickets on impulse. And as it turns out, Summer and Tiernan have their own reasons for wanting to get out of town. Good thing Alice's graduation gift (a pea-green 1976 VW camper van know as the Pea Pod) is just the vehicle to get them there.

But on the long drive cross-country, the girls hit more than a few bumps in the road. Will their friendship get an encore or is the show really over?
I love road trips and this one sounds really good!
**********************************************
Author:
Aimee Agresti
Haven Terra is a brainy, shy high school outcast. But everything begins to change when she turns sixteen. Along with her best friend Dante and their quiet and brilliant classmate Lance, she is awarded a prestigious internship in the big city— Chicago—and is sent to live and work at a swanky and stylish hotel under the watchful eyes of a group of gorgeous and shockingly young-looking strangers: powerful and alluring hotel owner Aurelia Brown; her second-in-command, the dashing Lucian Grove; and their stunning but aloof staff of glamazons called The Outfit.

As Haven begins falling for Lucian, she discovers that these beautiful people are not quite what they seem. With the help of a mysterious book, she uncovers a network of secret passageways from the hotel's jazz-age past that leads her to the heart of the evil agenda of Aurelia and company: they're in the business of buying souls. Will they succeed in wooing Haven to join them in their recruitment efforts, or will she be able to thwart this devilish set's plans to take the souls of her classmates on prom night at the hotel?
Love this cover. Sounds super good. Need I say more?
**********************************************
Title:
Masque of the Red Death
Author:
Bethany Griffin
Everything is in ruins.

A devastating plague has decimated the population. And those who are left live in fear of catching it as the city crumbles to pieces around them.

So what does Araby Worth have to live for?

Nights in the Debauchery Club, beautiful dresses, glittery make-up . . . and tantalizing ways to forget it all.

But in the depths of the club—in the depths of her own despair—Araby will find more than oblivion. She will find Will, the terribly handsome proprietor of the club. And Elliott, the wickedly smart aristocrat. Neither boy is what he seems. Both have secrets. Everyone does.

And Araby may find something not just to live for, but to fight for—no matter what it costs her.
I LOVE the cover! So creepy and pretty and awesome! PLUS, its Edgar Allan Poe. You can't get past creepy with him!