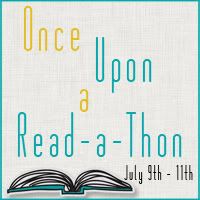 Once Upon a Read-A-Thon is hosted by Lori at
Pure Imagination
, Candace at
Candace's Book Blog
, and Angela of
Reading Angel
! Day 2! Here are the mini challenge I did for today:
Kindle Fever
asks us to:
As the story teller, I now want you to tell me which two characters are fighting and WHY!
Let's just say that this one was HARD. So, here's my entry: John Thornton and Fitzwilliam Darcy are having a fighting to figure out who is more swoon worthy and who wears a top hat better!
Books Read Today:
Ruby Red by Kerstin Gier
324 pages
Revived by Cat Patrick
10 pages only!
Total Books Read:
3 and 10 pages ( 702 pages read)