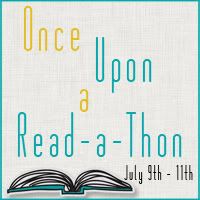 Once Upon a Read-A-Thon is hosted by Lori at
Pure Imagination
, Candace at
Candace's Book Blog
, and Angela of
Reading Angel
! It's day 1 of the Once Upon A Read-A-Thon and here are the mini challenges for today:
Bailey asks:
Question 1: What is your favorite cover that has been revealed this summer and why? Post a link or picture of the cover if you want.
I wasn't the biggest fan of the first book's cover but I just love this one! The art, the color, the eyes, EVERYTHING is just...wow.
Question 2: Do you rely on the cover to help you choose whether you want to read a book or not?
Sometimes yes and sometimes no. I read the synopsis first and then decide if the book sounds appealing or not. If I can't make up my mind by that, then I look at the cover. It doesn't hurt when the cover is nice and eye catching and brings more attention to the book.
I also participated in
Loretta of Between the Pages' mini challenge
!