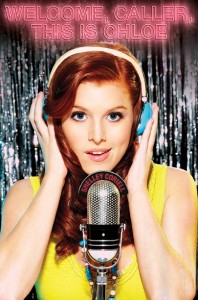 Welcome Caller, This is Chloe by
Shelley Coriell
Release Date: May 1, 2012
Publisher
:
Amulet Books/Abrams
Source: Publisher via NetGalley
Chloe Camden has a big heart and an even bigger collection of vintage shoes. Life is good…until her best friend turns the entire school against her and her counselor axes her junior independent study project. Forced to take on a meaningful project in order to pass her Junior year, Chloe joins her school's struggling radio station, where the other students don't always appreciate her unique style. Ostracized by her former BFs and struggling with her beloved Grams's mental deterioration, lonely Chloe ends up hosting a call-in show that gets the station much-needed publicity and, in the end, trouble. She also befriends radio techie and loner Duncan Moore, a quiet soul with a romantic heart. On and off the air, Chloe tackles love, loneliness, and painful life lessons as she gives her big heart to the radio station and the misfits who call it home.
I hadn't heard a lot about this book before I decided to get it off NetGalley. Like I said, I wasn't expecting much from it; just something light and fun to read. Surprisingly, Welcome Caller, This is Chloe turned out to be much better than I had anticipated. Shelley Coriell's Chloe is a wonderful protagonist who is good at heart and lives life to it's fullest.

Chloe is funny and smart and has a good head on her shoulder. She's kind of like me: usually happy and very nice and sometimes a little over hyper. But she loves vintage shoes and her grandmother and her friends and this aspect of her character made her so lovable. When her best friend turns everyone against her, Chloe doesn't let it get to her too much and she moves on. She's a strong girl and admits to not knowing everything in life, but she's not a total loss either. Even though she's angry at having to work at the station, she slowly overcomes her anger and even befriends her fellow station students.

My biggest issue with this book turned out to be something...I'd seen before. Maybe not at the magnitude and maybe the situation was over-dramatic, the reasoning behind why Chloe's friend dumped her. I've seen petty arguments like this happen in school but nothing as bad as everyone hating a girl.

Duncan Monroe was...sigh. I liked this kid a lot. He's brooding and quiet but he isn't rude or a jerk. He's nice and helps Chloe and he's the only friendly person to her at the station at first. Though he keeps people at arms length, Chloe and Duncan's relationship progresses slowly, becoming friends first and then something more. It was a well done romance and I liked that. They both got to know each other and saw parts of their life that weren't perfect and their respect for each other was strong.

Shelley Coriell's writing and plotting was well done as well. Maybe not as advanced or lyrical, it was still enjoyable. Some aspects of the plot were a bit of a surprise and some made me a little sad. Her supporting cast of characters as just as wonderful and dynamic as Chloe herself.

Overall, I really enjoyed Welcome Caller, This is Chloe. Though it's a light, fun read, there are more serious issues that are discussed that don't bog down on the enjoyment of the novel. Chloe is funny, smart, and a very lovable person and I think anyone will enjoy her story!
When I first saw this cover, I had no idea where the author's name was! It took me a while to figure out that it was on the microphone thing. This made me very happy because I just loved how all of the writing was done! The neon sign for the title and the placement of the author's name. I do like the simplicity of the cover and Chloe herself!
Reviews Around Blogosphere: