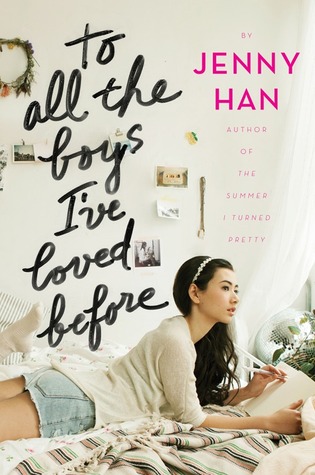 To All The Boys I've Loved Before, #1
by Jenny Han
Release Date:
January 24, 2006
Publisher:
Greenwillow Books
LARA JEAN keeps her love letters in a hatbox her mother gave her. They aren't love letters that anyone else wrote for her, these are ones she's written. One for every boy she's ever loved.




When she writes, she can pour out her heart and soul and say all the things she would never say in real life, because her letters are for her eyes only.




Until the day her secret letters are mailed, and suddenly Lara Jean's love life goes from imaginary to out of control.
Review:
To All the Boys I've Loved Before is quite simply a fun read. From all of the raving reviews of this book, I was hoping for something insightful but in reality, I didn't love this book. I enjoyed reading about Lara Jean but after turing the last page of this book, I felt nothing. It's not to say that To All The Boys (as it will not be called for the rest of this review) was a bad book (it wasn't); it just wasn't a memorable book.
Lara Jean, who I believe is a junior in high school (or maybe a senior? I can't remember), reminded me of myself on occasion. She's not always sure of herself and sometimes says things that she doesn't mean to. And she's a hopeless romantic like myself but there was some aspect of her characterization that I simply did not like. The only way for me to describe it would be to say that she sounded many years younger than her age and I often found myself shaking my head at her childishness. Other times I was simply indifferent to Lara Jean and her feelings. I couldn't help but just not care. Either way, I just didn't fully connect with her to the point where I would have enjoyed this book more.
As for the other characters in To All The Boys, I wasn't too impartial to any of them except Lara Jean's younger sister Kitty. She was adorable and funny and I loved every page she was one. Margot bothered me on many levels but the biggest reasoning was her lack of communication. It irked me that she got upset for not knowing everything about Lara Jean's life when she didn't share any information either. And I can't forget the love interest (who I guessed early on in the book) who was incredibly underdeveloped and well, not really my favorite person.
The letters, writing to the boys she's loved and having them mailed out would by far my favorite aspect of this novel. Surprisingly, and this is incredibly rare for me, I liked the premise and the plot for this novel better than the characters. As a writer and a hopeless (or die-hard) romantic, I loved and hated the idea of having my love letters mailed out. While I have never written a love letter, I have a journal and the idea that someone could read it mortified me so I understood Lara Jean's dilemma.
Overall, To All the Boys I've Loved Before has a plethora of fans who loved it immensely. I, on the other hand, am not in this category. Although I liked certain aspects of this novel, the entirety just was not for me. I understand that this is part of a series but I feel as though this novel could have been so much more. More depth, more characterization, more everything.
Rating:
Personally I love this cover. There's something so...simplistic and wistful about this cover. The model's pose and the look on her face tie in well with the title of the book. Plus, they didn't white wash the cover by having an Asian model!
**I borrowed this book from the library. All opinions are my own and I was not compensated for my review.**