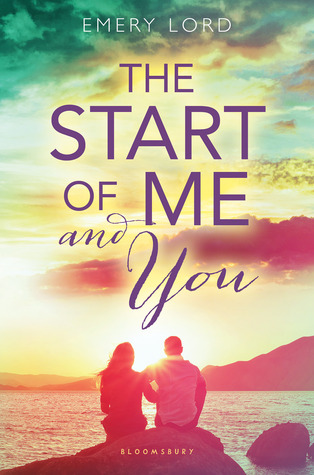 Release Date:
March 31, 2015
Source:
Publisher via NetGalley
Brimming with heartfelt relationships and authentic high-school dynamics The Start of Me and You proves that it's never too late for second chances.

It's been a year since it happened—when Paige Hancock's first boyfriend died in an accident. After shutting out the world for two years, Paige is finally ready for a second chance at high school . . . and she has a plan. First: Get her old crush, Ryan Chase, to date her—the perfect way to convince everyone she's back to normal. Next: Join a club—simple, it's high school after all. But when Ryan's sweet, nerdy cousin, Max, moves to town and recruits Paige for the Quiz Bowl team (of all things!) her perfect plan is thrown for a serious loop. Will Paige be able to face her fears and finally open herself up to the life she was meant to live?
Have you ever had that moment when in a spark of boredom you open cover of a beautiful book in hopes of keeping entertained for a few minutes at least? And then you begin reading the book and with every word, every sentence you find yourself falling in love? Well, that's exactly what happened between me and The Start of Me and You. While I wasn't as impressed with Emery Lord's debut Open Road Summer, The Start of Me and You left my mind numb with emotion. I remember being unable to pick up another book after I read this one for so long. The Start of Me and You is more than a young adult contemporary or a grief book or a romance. This book is filled with so much character growth and emotion that it'll stay in your mind for days to come.
Before I say anything else, I want to point out that The Start of Me and You is about the romance or the grief. This book is about Paige Hancock and her journey to finding herself again. First and foremost, Paige's boyfriend died a year ago by accidentally drowning which has left Paige with PTSD and a fear of drowning. While I though that Lord would focus on the grief, I was surprised to see that as much as Paige is effected by the death, she is more upset by the fact that Aaron lost his life so young. And I think that this is an important distinction to make. This isn't to say that she wasn't affected by his death and that it doesn't seem to ever go away. She wants to no longer be afraid of the water and wants to make this upcoming year better than last. So she creates a list of things she wants to accomplish this year to make her life better.
Before I go into Paige's list however, I want to talk about the family dynamics Lord introduces in this book because they were just so good. For one, Paige's parents are divorced and this effects Paige's life. They don't indulge her in every one of her whims and they often don't get along with Paige. I thought that this was very well done because her parents aren't absent but they aren't overwhelmingly present in her life. It was a perfect balance. Of course when a certain plot twist happens, I liked the way Paige handled herself. In all terms of this aspect of the novel, I liked that Paige didn't handle it completely like an adult but she wasn't completely childish either. Along the same lines, I loved that Paige had a sibling who wasn't absent throughout the entire novel. Cam, Paige's sister, was so much fun to read about. She wasn't always in the novel but it was the perfect amount. After all, Cam only adds to Paige's story in this instance.
But my favorite family dynamic in this book was Paige's relationship with her grandmother (who is suffering from Alzheimer's). There was something so heartbreaking and touching about this relationship and it had a very personal effect on me. I loved how much Paige loved and cared about her grandmother. I loved how she knew she could always count on her grandmother to listen to her and advise her in the best way possible. This relationship was so incredibly well done guys that I don't even have words. Too often I see people who don't care about their grandparents. For me, my grandparents live in India and I haven't seen them in almost seven years. I appreciated all of the moments Paige spent with her grandmother because those are the priceless moments I wish more people took advantage of. I won't lie, I cried a few times thinking of all the times I have and will miss with my own grandmother. Never take what you have for granted.
Of course, as much as I loved the family relationships, I also loved the friendships. Paige's friends Tessa, Kayleigh, and Morgan were so important to Paige that I really want a book in the POVs of each girl. They were so involved in Paige's life that it made me think of my own friendships: friends who are always there for you no matter what, though the good and the bad. But I think the same could be said for Ryan Chase and his cousin Max. Even though both are love interests of sorts, they are also Paige's friends. No relationship in this book is built from random. There is friendship and trust and eventually romance but don't think that romance is what this book is about. Remember, The Start of Me and You is about Paige and her growth. The romance, and I won't even say with who (but you can guess can't you? If not, let me tell you that he is so precious and my favorite part of the Pride and Prejudice picture; you'll know what I'm talking about when you read the book!) because spoilers but it is so worth it.
Overall, The Start of Me and You was such an incredible book that words seem to fail me. I know some people will not love this book as much as I did but for me, there was more of a personal connection for me. I am die-hard romantic but I loved the lack of romance in this novel. The Start of Me and You is what contemporary YA is all about: love and loss and acceptance and growth and relationships. And as much as this book has all of these things, it has so much more. Please read this book because it might just be the best decision you'll make.
I love this book like it was family. I know, in case of a fire, I'd save this book. It's amazing, stunning, and mind blowing. I would re-read this book lots and lots of times. It might even be a favorite. I would recommend this book to EVERYONE, EVER.
If my review didn't convince you of how much I loved this book then I'll say it here: I loved this book to pieces. I thought about it well after I turned the last page. I even cried reading this book because I could connect to certain aspects of Paige's life. This is a heart wrenching novel, yes, but it is also about the beauty of life and love.
I want a larger copy of this cover to put on my walls. IT IS SO BEAUTIFUL. LOOK AT THE COLORS OF THE SKY AND THE WATER AND THE SUNSET AND EVERYTHING. I WANT IT.